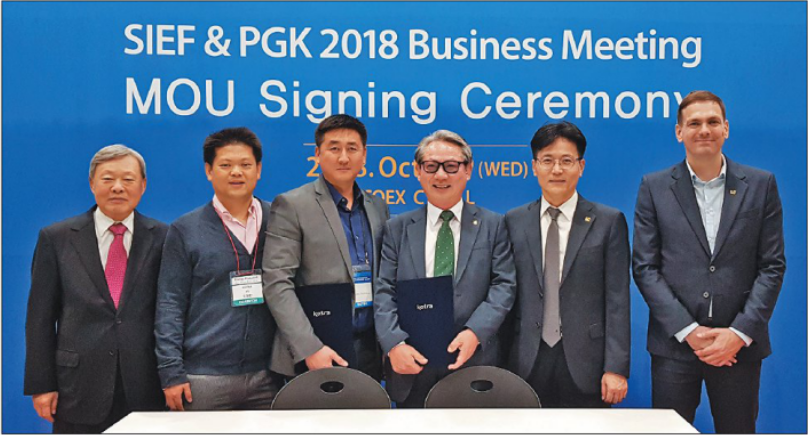 On 10th Oct, 2018, DKS signed the MOU with Sunbelt, the largest construction company in USA, The picture shows DKS Chairman (the fourth from the left) taking a group photo with all relevant personne
And this exhibition will introduce the Mega Beam and fiber reinforced plank used in the 2002 Korea Japan International Federation of Association Football, High speed rail and other construction site.
In the past 30 years, DKS exports the business to Japan, Australia, Europe, USA and other places to expand the business, so that world markets will has a further understanding Korea technology, to make contribution to Korea economy development, and won the Prime Minister Award on Trade Day Ceremony in Korea. This years sales reached $30 million, creating many jobs opportunity. Especially the scaffolding with safety, functions, and economy, is a product has been certified in many countries in the world, including the United States, and has also certified from KCS, Japan construction industry association and Australian government.
Normally, more than 60% of the construction site accident occur in plank operation. In order to solve this problem, DKS is committed to improving fiber reinforced plank , and established the Engineering Department in 2017. Materials was selected in the R & D in June, last year. And this material is possible to be used in similar fields such as national defense industry in the future.
DKS is committed to exploring overseas markets. This year, DKS participated in the Las Vegas exhibition in February and the Chicago exhibition in July. On 10th , October, signed the MOU with Sunbelt, the largest construction rental company in the United States.
"We are looking forward to the next generation of high-level system safety scaffolds to stabilize the domestic safety construction culture and contribute to disaster prevention," Said representative director Finally, he said: "in order to share the feast between the domestic scaffold system and all relevant enterprise stakeholders, I will do my best to be ready for everything!"